Following the British Expeditionary Force's chaotic evacuation from the Dunkirk beaches in 1940 there was a very real threat of invasion by the rampant German military. Their plan for invasion was code named 'Operation Sea Lion' and they planned to sail by August 15th.
The aptly named General Sir Edmund Ironside was tasked by Sir Winston Churchill with organising the country's defences. His plans including using canals and rivers as 'Stop Lines' to try and delay the German advance and allowing a counter attack by the British Army and Royal Air Force. World War 2 historians will argue that the Royal Navy would have prevented the German Navy from even reaching our shores but nevertheless the pillboxes and tank traps were erected and dug.
Locally to us on the Leeds Liverpool canal you can still see examples of pillboxes and machine gun towers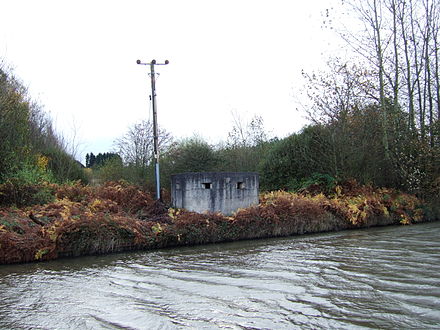 The Canal and River Trust have managed to find a use for some of them as safe havens for pipistrelle bats
https://canalrivertrust.org.uk/actnowforcanals-and-look-after-the-blue-and-green-space-on-your-doorstep/protect-canals-for-nature/pillboxes-for-pipistrelles
The Battle of Britain forced the Germans into postponing their invasion ambitions so the pillboxes never saw combat but they remain as a reminder of perilous times for the UK.